CPS Week Five
ArtReview founded in 1949 is one of the world's leading art magazines. Relesing nine issues a year, two of which have a specific issue or topic they focus on the magazine is released throughout Europe, Asia-Pacific, and the Americas. Alongside its sister publication, ArtReview touches on a wide variety of article types such as commentary of the art world, reviews, and interesting takes on artists and their bodies of work. As of November 2nd 2021, ArtReview has #140 published issues, selling in the approximate bracket of £6-£9 for a signal issue and approximately £84 for a year-long subscription.
The article I decided to focus on was 'Why now, man?' written by Jonathan T.D Neil from the October 2018. The article focuses on Bruce Nauman, failure, trauma, race and privilege. The author, Jonathan T.D Neil currently based in Los Angels, CA is the co-founder for Inversion Art and was the editor for ArtReview 2016-2018. Neil also has a website with the header "Consecutive Matters" which is filled with informal collection of his unfinished works.
The article begins discussing the contemporary artist Bruce Nauman and his infamous work and the fact 'no other artist has so consistently defied the pull of a recognisable style'. Currently 79 years old Naumen's vast portfolio ranges from sculpture, film, performance, video, photography, installation and almost any other genre. The article references one time deputy director and now Rauschenberg Foundation executive director Kathy Halbreich,'one of Nauman's devotees'. Halbreich organised one of Nauman's retrospective exhibitions wrote in her introductory essay to the catalogue 'surprised-really sideswiped me' in reference to Nauman's practice.
Included in the article is a still taken from Nauman's Walking in an Exaggerated Manner Around the Perimeter of a Square. The ten minute video shows Nauman doing exactly as the title states. The square on the floor is marked out with masking tape and even though his moves are overemphasised he still steps carefully around the shape. The inclusion of this piece within the article was very deliberate as I feel it describes Nauman and his practice in a very concise manner. It epitomises Nauman's work, making it a good starting point to discuss the artists fundamental believes and practices and is seen as one of his iconic studio works alongside Walk with Contraposto (1968). Much like Walking in an Exaggerated Manner Around the Perimeter of a Square, in Walk with Contrapposto Nauman walks moves through the space whilst the camera is in a fixed position. He poses with each step he takes. "You couldn't see the rest of the studio, and my head was cut off most of the time. … In most of the pieces I made [in 1969] you could see only the back of my head, pictures from the back or from the top." said Nauman while talking about the piece. (Quote from https://www.eai.org/titles/walk-with-contrapposto)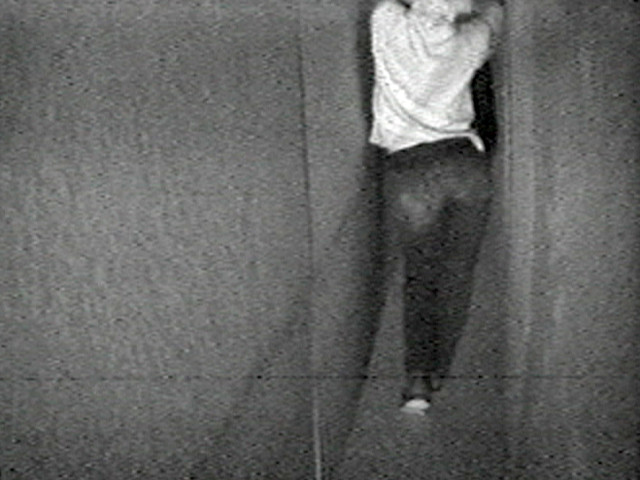 What is trauma except failure by another name – failure to represent, failure to incorporate, failure to work through and to sublimate.

Why now, man? Jonathan T.D. Neil
In talking about Nauman, Neil brings up the point of Nauman's privilege and the advances he has being a white male. The American choreographer, company director, writer, visual artist and a conceptualist, Ralph Lemon addresses the politics of Nauman's 1968 Wall-Floor Positions video by stating 'Here was a particular projection of white-male autonomy taking place concurrently with the exigencies of black civil rights movement, with this culturally defined lack of autonomy… I try to imagine a black body in an art studio, in the United States, in 1965… I cannot imagine it.'. Lemon did his own take on the piece Wall-Floor Positions but with two black live performers instead. It also should be noted that Neil is a white male author so even though he was able to reflect on the privilege Nauman has he would not be able to relate or truly understand the struggle and weight of the work by Lemon.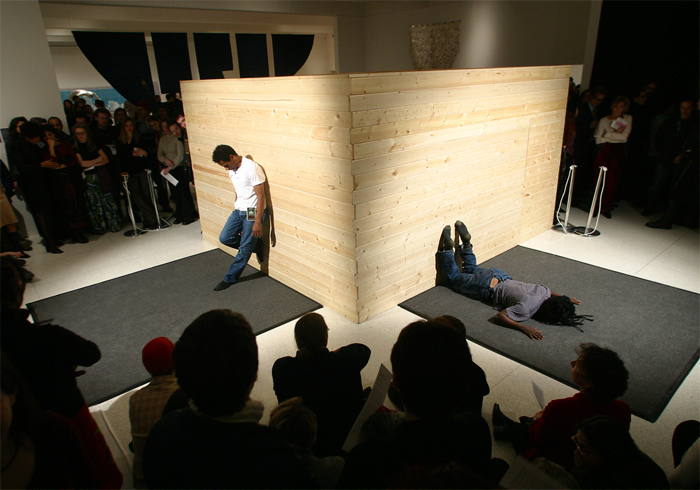 In conclusion I found Neil's take on Nauman very interesting. Neil almost questions Nauman's position within the art world and highlights points that are often overlooked especially by Nauman's fans. It was intriguing how Neil's chose of language often seemed to be abrasive and dismissive of Nauman's beliefs.