Currently in sculpture I'm working on combining everyday objects with aspects of human anatomy, I have mainly experimented with plaster, silicone and liquid latex.
Contemporary artist- Xooang Choi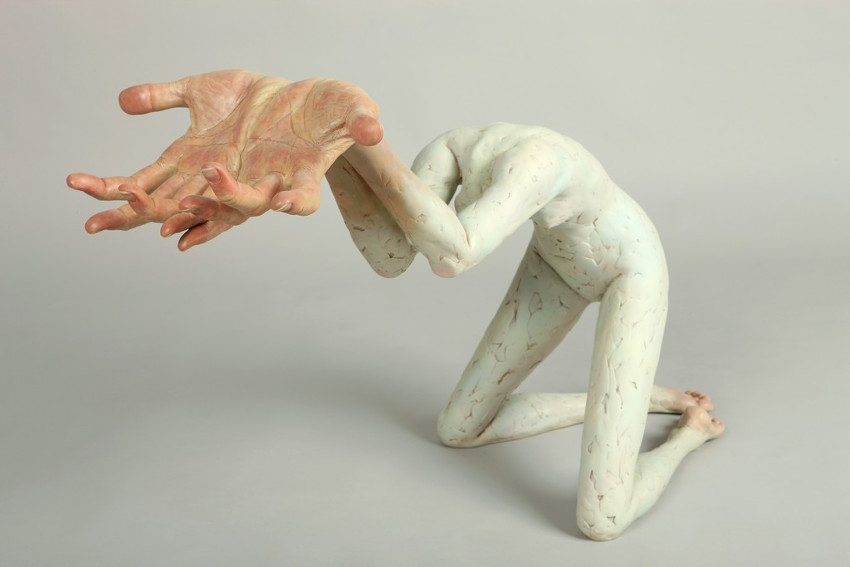 Xooang Choi is a hyperrealist sculptor, who is based in South Korea and obtained his postgraduate in sculpture from Seoul National University in 2005. His sculptures made from a mix of clay and resin and painted with fleshy tones combines hyperrealism as well as surrealism.
He takes body parts out of context to create disturbing and thought-provoking pieces

Widewalls
I felt like Choi's work inks very well with my own current practice as I am also trying to push the boundaries of preconceived notions and boundaries of human anatomy. After looking at his portfolio I was particularly inspired by the way his sculptures are painted.
Historic Artist – Alberto Giacometti
The swiss sculptor, Alberto Giacometti, created work inspired by the human condition. Said to be one of the most important sculptors of the 20th century his strong and distinctive style makes his work feel cohesive and it is almost like they have a familial bond.
Although my work and Giaometti's work do not share many similarities visually, I find his philosophies very interesting and inspiring. Giacometti used his work to raise questions about the human condition which is something I also strive to do through my work.
Sources:
Alberto Giacometti 1901–1966 | Tate
'Standing Woman', Alberto Giacometti, c.1958–9, cast released by the artist 1964 | Tate
Tate Modern to Display Rarely Seen Giacometti Sculptures | artnet News